Meet our leadership
Say hello to the leadership team at Centerbrook Church. Got questions for the lead team at Centerbrook? Contact us by clicking here.
Joe Horner - Founder and Lead Pastor
Joe Horner is the Founding and Lead Pastor at Centerbrook. He has a Degree in Pastoral Ministries from Central Bible College and has served as a Staff Pastor and Lead Associate in the past. He is a borderline workaholic who loves to teach and preach God's Word, to tell folks about Jesus, to eat, and have fun with all God's people. His hobbies include hanging out with his lovely wife, Pam, training for the Air Force 10K race and trying to play golf. He grew up in Xenia, but asks that you don't hold that against him.
Pam works for Mednax Medical Group, has a big heart to serve, and is part of the Hospitality Team and any other team that needs help around the church. Her biggest job of all is to keep Joe's feet on the ground. Her hobbies include loving her kids and grandkids, watching old TV shows, reading historical romances and lately, making sure she watches every Hallmark movie possible while practicing her new hobby, crocheting. She also takes her iPad everywhere she goes.
Joe and Pam have been married a long time. They have two daughters, Brittany and Ashley, two sons-in-law, Kevin and Tim and two grandsons, Logan and Kohen.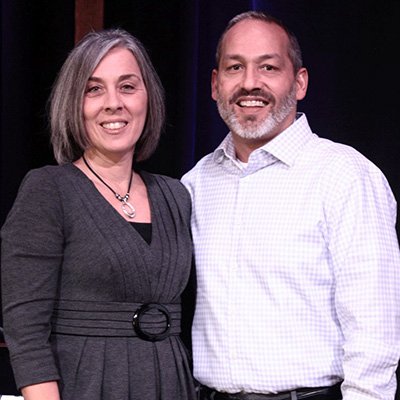 Rob Martin - Worship Leader
Rob Martin has been Centerbrook Church's worship leader since August 2013. He came to us after serving 26 years in the United States Air Force.
Rob has a bachelor's degree in weekend golfing and a master's degree in doing what his wife says. Speaking of his wife, he's been married to Nadine for 32 years. They have two boys, Julian and Ethan. Rob and Nadine both have a heart for serving the Lord.
As a matter of fact, all of the Martin's make up members of the worship team. Nadine plays bass and sings, Ethan plays piano, Julian plays lead guitar, and of course Rob plays guitar and is lead vocals. Come to Centerbrook and worship with us!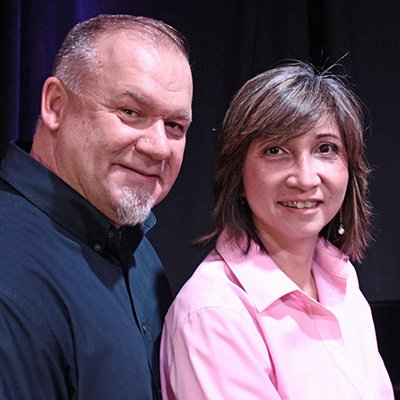 Kim Frank - Family Ministries Pastor
Kim Frank joined the staff of Centerbrook Church in June 2021. Kim also, grew up in Xenia but left the area for many years pursuing college, marriage, motherhood and ministry.
At the age of 12, she came to know Christ and has dedicated her life to living for Jesus. She served as a Pastor's wife for over 35 years, both in OH and NY, was a Women's Representative in the New York Network for 10 years, plus very active in Bible teaching for all ages. Her greatest joy in ministry is to see people young and old have that 'ah ha' moment when some Biblical truth finally reaches their head and their heart.
Her favorite pastime is a good cup of coffee and sincere conversations with friends and family. Kim is the kind of women that what you see is what you get! She says, call her sometime for coffee and a chat!